Hi, and welcome to Blog No 3!
Well, another week has started in our continued lockdown. How are you all doing?? It is my 6th week working from home and starting to feel that "disconnection" from my office family. The only benefit (well, most useful one) is that I'm always on time for work in the morning! Plus, I don't have to take my lunch to work. On a serious note, I'm not sure that I would ever get used to working from home, so I take my hat off to those of you who do it all the time.
This week has highlighted to me the need for contact with others, after taking a referral from BDC requesting a volunteer to "chat" with a resident. This gentleman has carers visit in the morning, but like so many has no one at home from lunchtime through till the following morning. It's lonely and boring. Fortunately, I have 5 wonderful volunteers who are going to call this gentleman on a rota basis and chat with him. Thank you so much – you all know who you are.
We are all aware of "being alone, but not lonely or being lonely, but not alone". You can be lonely in a relationship or a crowded room but being "alone" can be a different matter. Or perhaps it could be a case of feeling both. I confess I am concerned about our long-term mental health, when so many people spend long periods of time by themselves. Most of us (I hope) are lucky enough to be able to get out and about in normal circumstances, and see friends and family, making this "alone and lonely" period so much worse for us all.
I am continuing my contacts with carers involved with the Dementia Cafe but have also started contacting those that attend our Luncheon Club to ensure they are safe and well. Fortunately, most have family nearby, or good friends that are helping with shopping and checking in on them. I have started doing my neighbour's shopping. An elderly lady, who I would never have known, had this situation not arisen. New friendships bloom from unexpected places.
On the good news front, Clarion Futures, the charitable foundation of Clarion Housing Group, has established an Emergency Support Fund which allows them to provide direct financial support to some of their longstanding partners. We've been lucky enough to receive a grant which means are we now able to offer help with volunteer expenses. Some of our drivers are doing 30+ miles a week delivering prescriptions to residents in TSA and fringe villages. It was never the intention that they should be "out of pocket" fuel-wise, so this will be a great help to them. We continue, with the help of our trusty band of volunteers, to get shopping and meds for our residents where needed. Please call 01603 701048 if we can help you.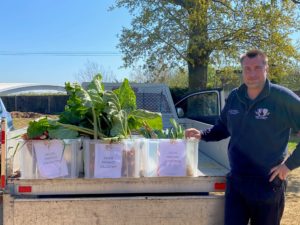 Jason, our Parks & Estates Supervisor has been working hard as ever with Parks colleague Martin. We still need to keep our grass cut and verges tidy, always plenty of jobs to do for the boys. Mother Nature stops for no one! But after a phone call from our allotment holders at Dussindale site offering produce to those in need, Jason and Tom spent the morning boxing up all the lovely fresh veg. Jason took this to the food hub, which is based in Long Stratton, and run by BDC. The food hub distributes emergency food boxes throughout Broadland- now with some extra veg. So, a big THANK YOU to our allotment holders, Jason, and Tom.
The Tree Plantation on Laundry Lane.
I'm sure most of you have discovered our lovely tree planation area on Laundry Lane! Sometimes referred to as Olive's Garden.
The Council have offered the enclosed space to families with SEND (Special Educational Needs and Disabilities) children. Town Mayor Cllr John Fisher explained "the government have recognised the impact lockdown rules are having on many SEND children, and as a Council we are keen to ensure that we are doing all we can to help these families. We know that there is a shortage of suitable spaces, and in line with government advice, we will be offering this facility to SEND children across the area".
The idea is that we change the opening times so that from Thursday 30th April families can book an hour slot to enjoy, in safety, this lovely area with free reign to run about. The plantation contains a variety of trees and plants and hopefully will prove stimulating for young minds in a parkland environment. We will be asking our regular visitors to avoid this area on Thursdays, and times etc will be posted on the gate. Dogs will continue to be banned from this area to avoid fouling.
If you would like more information on booking a slot, or to find out what you need to do to qualify, please email thomas.foreman@thorpestandrew-tc.gov.uk